This coming October, Crobel, a leading label manufacturer, will reach the milestone of 20 years in operation in the service of the food industry, a segment that has been the key driver of growth for a company which today employs a staff of 42 in a 3,300 square meter facility. For the past two years, the firm has been betting strongly on the wine label business, one of the dreams of its founder and CEO ever since the company was started. "Our intention is to remain firmly committed to our food business," explains Carlos Corte-Real, "but it is also true that we have been trying to enter the wine market for some time now, a segment that I like a lot, especially since as a child I had a hobby of collecting wine labels." In fact, this is not the first attempt: "We tried back in 2010, but we had a fire in our facilities just when we were starting to penetrate the wine market and were forced to concentrate on our core food business to retain our position."
After years of consolidation, in 2018 we started thinking again about focusing a part of the business on the wine label segment and began a phased investment in machinery specific to that market, one that has recently culminated in the incorporation of a Miyakoshi MLP13C semi-rotary offset UV press for labels. "We are not just developing a line of business, but rather following a passion," Carlos Corte-Real explains.
The label industry in general is highly local and consistently moves in response to the needs of its nearest markets. The world of wine is undoubtedly one of the most important industries in that region of Portugal, as in the case of Porto, as well as those of wines from the regions of Guimaraes and Minho, increasingly referred to as "green wines", all of which are exclusive wines from Portugal and are increasingly attracting international attention. "Therefore, we are in an exceptionally opportune location to extend our line of business in wine labels," the CEO remarks.
The Miyakoshi MLP13C semi-rotary offset UV press for label printing, with a maximum paper width of 350mm and maximum repeat length of 406.4mm, "is capable of operating at a maximum speed of 101 m/min, making it the most productive semi-rotary UV offset machine on the label market", explains David López, Miyakoshi Europe Sales Area Manager. "In addition, it can print constantly at full speed regardless of the print width selected".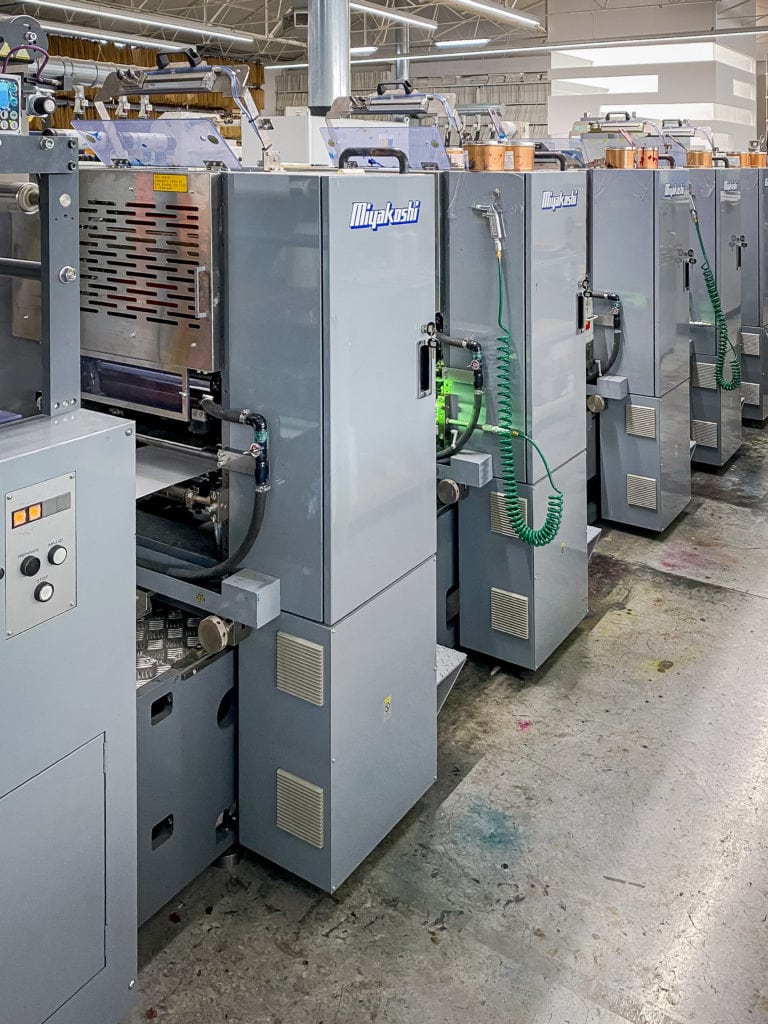 Crobel's Miyakoshi MLP13C, configured in a 5 offset + flexo + die setup, is fully automatic (automatic inkwells, automatic battery washing, cold-start function, refrigerated oscillating rollers…), "making this machine a perfect solution for short/medium and long print runs for the wine/cosmetic/food markets. Thanks to the MLP's high offset print quality, Crobel is able to compete in the high-quality wine label market with tremendous added value," adds Lopez.
The machine was installed at the beginning of the year and at the time of the interview, conducted in early March, Carlos Corte-Real told us that "we are not yet working at 100% capacity with it, but we are fully convinced that it will allow us to grow our wine label business. At first, we faced a lack of specialized offset personnel, since we have always been specialized in flexography, and the change was not as seamless as we had expected, but with the help of Miyakoshi Europe – OMC and the incorporation of specialized personnel, everything has gone more smoothly. We are now gaining a firmer grasp on the ins and outs of offset printing and we are clearly already well on track, yet are not yet at full capacity, as I mentioned, but the investment is starting to deliver good results. We will be fully staffed in short order."
Service, at the Heart of Strategy
With a turnover in 2019 of 4.5 million euros, Carlos Corte-Real expects that "with this new acquisition especially focused on the wine segment, I think that by the end of 2020 we should brush up against 5 million in turnover. We've had a very strong start to the year, are well-positioned, and I expect great success throughout this fiscal year."
To that end, the Portuguese company will intensify its commitment to internationalization. In fact, the Spanish market, mainly the region of Galicia, already represents just over 20% of Crobel's sales volume. "We have a sales team in Galicia and already enjoy a strong presence in the market for seafood preserves, meaning that some of the major players in this market are our customers. Moreover, at the moment we are also starting to do a lot of business in the Albariño wine region," says Carlos Corte-Real. "Obviously, we would very much like to grow at the European level, and since we have a consolidated presence in Spain, our next step would be to enter France," he adds.
But what's Crobel's business DNA, its core strength? What sets them apart from other Portuguese label manufacturers? Carlos Corte-Real doesn't hesitate to declare, "We care a lot about service excellence. Although we are superbly equipped for the segments and industries we target, there is a natural limit to the competitive advantage technology can provide, as our competition has access to the best technology as well. That's why we have worked hard from the outset to differentiate ourselves in production and delivery times and in customer service. That's how we've managed to penetrate a market in which there's already a lot of competition, be it in food or, now, wine."
Yet it is undeniable that technology can have a genuine impact. It is essential for a label manufacturer to be up to date, whatever printing technology it uses, especially in a case like that of Crobel and its endeavor to penetrate new markets. Investment strategies can therefore be particularly important. In order to serve the wine market, Crobel has made investments totaling nearly a million and a half euros, from the end of 2018 to the end of 2019. "If you want to grow, you have to invest, there is no other option," the CEO explains.
We conclude our meeting by discussing the state of the self-adhesive label market in Portugal and the then-growing threat of the global pandemic. According to the CEO of Crobel, "our market has grown a lot in recent years, and there is a lot of optimism regarding growth in Portuguese exports. The cycle that we have experienced in recent years has been certainly quite positive, with good data on domestic consumption and export, but at the moment we have a serious problem with the Covid-19 epidemic. We do not know what will happen and we are detecting concern. Nevertheless, we shall continue to work, if possible, with even greater effort and optimism than before so that it affects us as little as possible and shall not deviate from our plans. Our goal is to become one of the largest companies in the Portuguese market and to be known for the quality of our work and the level of service we provide our customers."
Source: INFOPACK