In these moments in which the graphic arts market is being flooded with digital presses; in which it seems that printers are falling over themselves to complement their conventional machinery with the latest technology to respond to the demands of their clients; in which the general impetus is heading inevitably towards digital processes; in which, in our pages, we report on the "digital leaps forward" of hundreds of companies, large and small; in these moments, we have found to our surprise (and to our admiration) that one company, Etilisa, that was "born digitally" in the Rioja wine region to produce labels using HP's Indigo digital printers, has taken what seems like a step "backwards", and has installed a Miyakoshi MLP13C semi-rotary offset press supplied by OMC, the brand's exclusive distributor for Spain.
This company, founded in 2010 in Arnedo by Diego Castillo, its current CEO, entered the complex and competitive world of self-adhesive labels in a surprising fashion: in a region like La Rioja, a prime, traditional wine-producing region with a plethora of large, long-standing label companies perfectly equipped with all existing printing technologies, Etilisa was born entirely digital, with a business model and a vision based on the Indigo digital technology from HP, its trusted partner. Hand-in-hand with HP, Etilisa has grown and has become consolidated as one of the main suppliers of value-added labels in the Rioja region, especially in the wine world.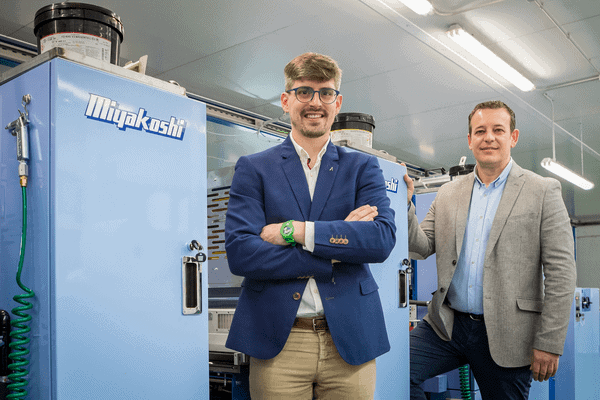 So what would cause a young, successful company flying the digital flag to turn to "conventional" processes? "We are maintaining our essence and manufacturing philosophy 100%, and we have seen that offset technology is the natural, and indeed, necessary complement to our existing manufacturing structure, since it offers us the options of expanding our client base and of offering new products to our existing clients. Our main market, wine labels, demands a very high printing quality in medium-length production runs, and offset technology allows us to respond to these demands", says Diego Castillo as an introduction to the topic.
But let's take it step by step. Etilisa's CEO explains the genesis of this project, which has so surprised us, to extend their equipment by adding conventional offset technology, as follows: "Our world is the world of wines, and always has been. Wine producers in this area have sampled our products, they know us and tell us that they like our quality and our service, and they want more. Why can't we obtain these larger orders? From our stance of "try us, share us", which is what we can offer with digital technology, we want to go on to "order everything from us", no matter the quantity. Our digital press is productive, it's fast, and it gives us quality, service and quick response, all valued by our clients, but it has its limits. In this context", continues Castillo, "we must head towards a much more complete and balanced print shop".
From digital offset to semi-rotary offset
Once the decision was taken, the manufacturer and model best suited to Etilisa's needs had to be selected. "We looked at five different brands of semi-rotary offset printers. The main reason for choosing Miyakoshi is that its technology is very well known, with a lot of experience backing it up in the wine-label market both here and internationally, and in particular, they are working here in our area to serve the regional wine producers. So, for both technical and commercial reasons, we chose to go with the types of machines and technologies that are already known in our natural market. Also, whereas HP is synonymous with digital offset, Miyakoshi is synonymous with offset technology in the wine label market". The final choice fell on the Miyakoshi MLP13C semi-rotary offset printer, obtained through OMC, the Spanish distributor, "perfect for printing on paper of all types and equipped with a flexography print unit to enhance the quality of metallic finishes, in addition to the five offset print units".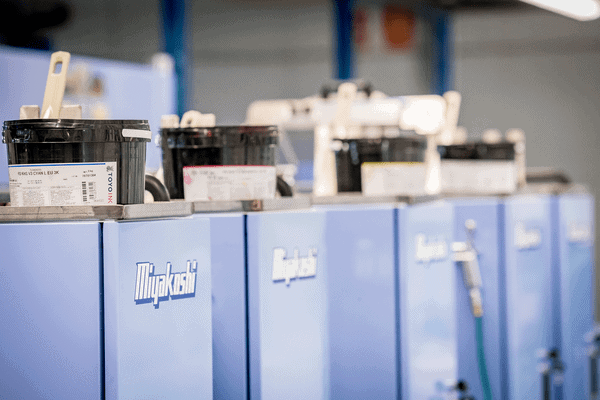 "Its comprehensive configuration, with a feed reel, one flexography and five offset print units and the take-up reel, fits in perfectly with the mentality and vision of this label manufacturer", explains David Lopez, Miyakoshi Europe's Sales Area Manager. "This semi-rotary press can achieve and maintain a maximum speed of 250 impressions/minute, independently of the repeat length up to a maximum of 355.6 mm (71.1 m/m, approximately). At the same time, its patented web-tension control system, based on dual servo-controlled pull rollers at the in-feed and out-feed reels, ensures accurate registration and stable web tension at maximum speed. The MLP is our flagship model, and has been very positively accepted, since its introduction, both in Spain and in the rest of Europe, with many installations in other countries such as France, Italy, Portugal, etc. Its productivity and reliability are its main features and are highly praised by our clients".
The semi-rotary offset press has the advantage that "it hardly needs tooling and has a variable format, which is a tremendous advantage. But this is Miyakoshi! Comparing the semi-rotary printing system with flexographic printing, we can change the format almost as though it was a digital printer; in fact, you don't have to touch the machine, it is all automatic, and that helps a lot", emphasizes Rodriguez. "We have been seeing this recently, in fact, since we work with large organisations that are starting to adopt this technology, not only for the print quality, but also because the format changes are a lot cheaper than in flexographic printing. Semi-rotary printers have always been around, but were only useful for very exclusive labels, while our machine provides this quality for far greater production runs, printing on materials of all kinds".
The challenge now for Etilisa is to integrate and develop the enormous potential of conventional offset printing. "This is not a new challenge for us. When we started with digital technology, 8 years ago, we had to learn to dominate it. Now we are in the same situation with Miyakoshi, but we have eight year's experience, an exciting project, and full cooperation and assistance from OMC and Miyakoshi Europe, whose teams are doing a great job, not to mention the professional commitment and 'savour faire' of Etilisa's staff, who are fully behind me, supporting me", insists the Etilisa CEO. As we all know, the implication of a company's personnel is indispensable in installations of this type, especially when it involves a new technology.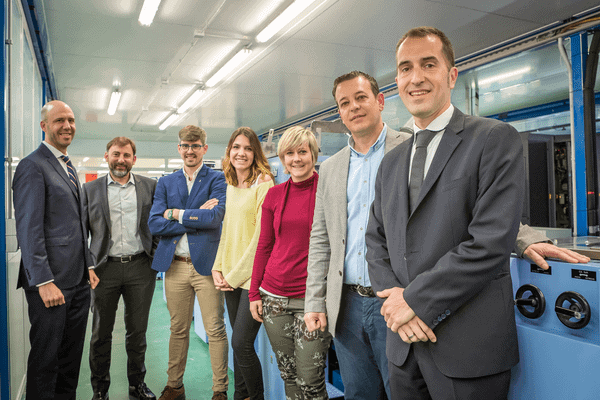 From left to right : Enrique Rodríguez (Miyakoshi Europe Sales Manager), David López, (Miyakoshi Europe Sales Area Manager), Aitor Santamaría (Head of production in Etilisa), Cristina Martínez and Belén Ezquerro (Design and Pre-impression department in Etilisa), Diego Castillo (Etilisa CEO) and Michel Madoz (Miyakoshi Europe Marketing Manager).
From the point of view of a printer supplier, what is the conversion from digital to conventional printing like? Is it difficult to digest? According to Enrique Rodriguez, Miyakoshi Europe's Sales Manager, "in our experience, it depends above all on the attitude and background. These are fundamental. The common case is that someone familiar with conventional printing moves into the digital realm, and if they are willing to learn, they can start producing quite quickly; but they have to understand that digital technology is not at all similar to conventional technology. Now we have the opposite situation, going from digital to conventional; we have had some experience of this, but Etilisa's is undoubtedly the most radical case we have seen, they are starting on a different basis. But the process must be the same: willingness to learn, and attitude. I don't think that handling an offset machine, with all it implies, is really more complicated than handling a digital machine. In the end, the question is not the machine, it's the process. They are two different routes to manufacturing a label, and each has factors that must be taken into account. Etilisa has everything needed to implement and develop offset technology efficiently. They have a combination of knowledge and ability, and that counts for a lot. And then there is their attitude. Knowledge sums with ability. But attitude does not sum, it multiplies"!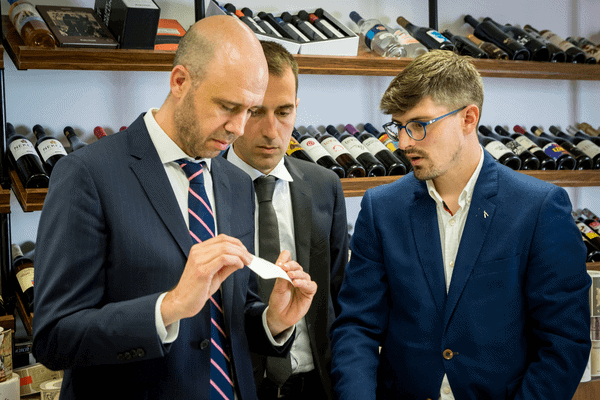 Really, this is all part of a tendency that we have been seeing for some time in label print shops throughout Spain:- different printing technologies living side by side. The mistaken idea, prevalent in many sectors of the market in the early days of digital printing, that digital printing would replace conventional printing, is long gone. "They are complementary technologies, one does not exclude the other", insists Enrique Rodriguez. "They may intersect at some points, but they are completely complementary. And in label printing, more than in other sectors of graphics arts, it is obvious that the tendency is to coordinate different technologies within the same company in order to be able to respond at any time to the clients' demands, which can be very varied".
Deeper into the world of wines
New opportunities are opening up for Etilisa. "We are planning various steps", explains Diego Castillo."In first place, and after the initial learning curve, since we have only had the machine for a few weeks, we will start modestly by getting orders from our long-standing clients, who have confidence in us, and when this stage is consolidated, we will expand in our market, the wine industry, seeking larger orders and moving into other wine areas such as Rueda, Ribera del Duero, Toro or Cigales. Unlike La Rioja, where wine producers produce many different wines, wine producers in these other areas often produce only one wine, and this is especially true in Rueda, so where a producer in La Rioja might order 25,000 labels, in Rueda the order might be for 300,000. With the new semi-rotary offset printer, we are now ready for Rueda". But Etilisa's vision is international, and they plan to conquest Bordeaux. "In a globalised world, with good planning and a commercial structure familiar with the market, I believe that we will have an open road there when we demonstrate how well we produce labels in La Rioja. We are specialised in high-quality labels, and in Bordeaux, producers know that they sell excellence, and pay great attention to the added value of the final product".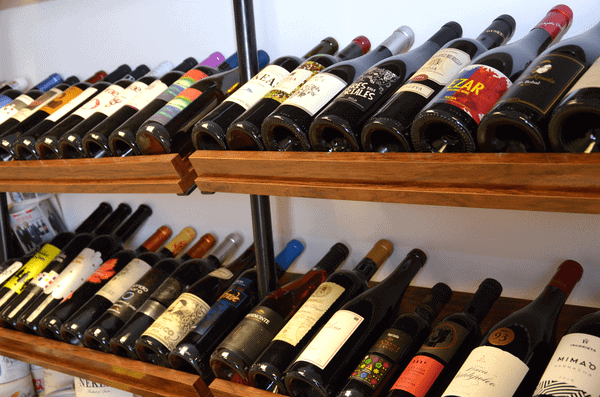 Since they moved into new installations in 2015 and professionalised the company by creating new departments, Etilisa (Arnedo, La Rioja) has faced a new challenge; implementing and integrating all of the power of conventional offset printing into their 100% digital experience.
In their 1,500-square metre factory, they have closed off 600 square metres to air-condition it as the working area for their new Miyakoshi printer. The rest of the factory consists of storage spaces for raw materials and finished products, and the shipping department. They have also created a new office for planning and quality assurance, "completely involved with and integrated into the production area, since in Etilisa, we understand that this must be a single department, not two separate ones", explains Castillo, and have also created a new CtP office linked to the pre-impression department.
With its work force of 27, Etilisa has based its growth on the quality of its services, "always taking exquisite care of new clients, at their side when they need us in order to serve them well", concludes Diego Castillo. "Perhaps we could have grown more, but we preferred to go a little more slowly and lay a firm foundation for our project".